YP Newsletter - November 2015
November 19, 2015
In this Issue:
Welcome to all new YP members
IAM Annual Meeting

Team Building Event
YP Welcome Reception
AFW Scholarship FUNd Night
IAM-YP Membership Meeting
YP Social Mixer
Knowledge Lab: Boost Your Career, Learn from the Best
---
Welcome to all new YP members
With 400 members, the IAM-YP group is larger and livelier than ever. As the largest YP group in the industry, you are able to connect and build relationships with hundreds of your fellow young professionals around the world to increase business and develop your personal and professional networks.
We welcome all the new members to join the
IAM-YP Social Café community
and the
IAM-YP Facebook page
. Feel to write a small biography on the Facebook page along with how your company may be able to conduct business with other YPs. This is a good way to start meeting fellow group members and introducing them to how you and your company can be a valuable partner.
IAM-YP Annual Meeting Review
IAM Annual Meeting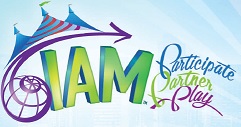 On behalf of the IAM staff and IAM-YP leadership, we want to thank all the YPs that attended this year's meeting in San Diego. Without your participation and engagement, this group would not be the best networking and leadership development opportunity for our industry's next generation.
Team Building Event
Here is 'We Thought This Was Bingo' basking in their victory at the YP Welcome Reception. Pictured are from left to right, Nishant Shah, Sarah Wells, Alvaro Stein, Sascha Graf, Samir Shah, and Team Captain Angels Gallardo
During this year's team building event, YPs competed in a scavenger hunt battle royale. YPs were sent over the hotel and all around the Gaslamp District to enjoy enjoying a mixture of food, culture and trivia. A total of ten teams competed but only one team was named the champion. Due to their creativity as well as timeliness and correct responses, congratulations to this year's winning team We Thought This Was Bingo!
YP Welcome Reception
The YP Welcome Reception, the second IAM-YP Annual Meeting event, was held poolside. Here YPs were able to network and socialize with in a relaxed environment. Thanks to
Mudanzas de la Fuente
for their generous support in sponsoring this event! 
The YPs also received a special announcement. Roberto Mejia Rodriguez, representing the Spanish Movers Association, proudly announced that the 2016
Young Movers Conference
will be held in Madrid, Spain, and all IAM-YP Members are welcome to join and participate. This event will take place from May 5 - 7, 2016. IAM is proud to support this event!
AFW Scholarship FUNd Night
This year the YPs helped raise money for the Alan F. Wohlstetter Scholarship Fund through the crowd funding website Razoo. YPs who donated $40 or more and could then gain entrance to the FUNd Night event. Through this new approach, the YPs raised approximately $1800 to support the scholarship fund.
IAM-YP Membership Meeting
To kick off the meeting, the YP Management board coordinated a Harlem Shake in which all members both new and old participated to break the ice. Following the Harlem Shake, YP members took part in speed networking. Through this event members were able to network in a fast and efficient way, making valuable business connections with their fellow YPs who they may not have known before the session started.
YP Social Mixer
The YP social mixer this year at the Tipsy Crow was a huge success. An entire bar was rented out where guests could enjoy three different floors of fun. For the first time non-YP members were allowed entrance with the purchase of a ticket, allowing IAM members of all different ages to socialize and have a good time. Big thanks to
NEDRAC
, Inc. who sponsored this event, which brought in roughly 350 people to the Tipsy Crow.
Knowledge Lab: Boost Your Career, Learn from the Best
Specifically requested by the IAM-YP group to enhance the professional development content offered by IAM, this Knowledge Lab session was kicked off by IAM President Terry Head, who introduced the topic by briefly discussing the importance of mentorship and how best to build industry experience before welcoming IAM Programs Director, Brian Limperopulos, onstage to moderate a panel of industry experts. Audience members were treated to insights on these questions by the following IAM Members:
Angels Gallardo, Inter S & R, IAM-YP Management Board, IAM Commercial Affairs Committee
Laura Ganon, Transportes Fink , FIDI Board Member, Former President of LACMA
Steve Lewis, Voerman, IAM Hall of Honor Selection Committee, FIDI Academy Trainer
Jan Moore, Former IAM Executive Committee Member, IAM Hall of Honor Member
Ben Scheiner, Global Relocations, IAM-YP Management Board
Weaving in different questions to each panelist, it became clear that there was some important overlap in what led to each panelist rising in their career. First, when given the chance to take on new responsibility, panelists embraced the challenges even though they had little idea on how to accomplish the task. "Trial by fire" is a common technique used in our industry to teach a new person how to do something in the absence of training. Although each panelist agreed that training was the preferred way of imparting skills and know-how, they also pointed out that they always learned the most when confronted with a challenge that they had to figure out themselves.
Last, each stressed the importance of meeting and interacting with all sorts of people. Through these interactions, you often learn unexpected things as well as figure out who can help you in certain situations. You may also find somebody who might be worth approaching to become your mentor.
To the last point, this was a reason why IAM developed the Mentor Match program. Through the
IAM Social Café
, you can connect with other IAM Members throughout the year so that the conversations you have at the Annual Meeting don't have to end there. To learn more about Mentor Match and how you can participate in it, go to the
Mentor Match
page on the IAM website. You can also enroll to be either a mentor or a protégé easily through the
IAM-YP Social Café community